Valving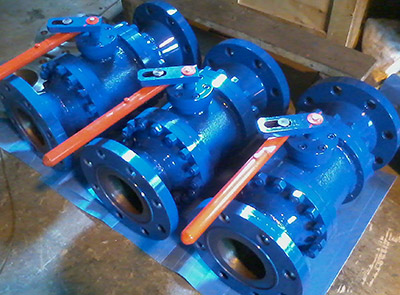 United Productions enterprises produce valves of nominal sizes (DN) up to 500 mm and nominal pressure (PN) up to 40MPa with a variety of control types (manual drive, pneumatic, electric, etc) suitable for any needs. Quality of our valves is confirmed by certificates of conformance as well as technical supervision resolutions issued in Ukraine and Russian Federation.
High technical characteristics of our products are ensured by constant application of new and modern sealing materials, strict quality control at all stages of both development and manufacture of valves, advanced processing and coating technologies. Products are used in construction and modernization of the facilities of natural gas and oil production, transportation and processing as well as the facilities of chemical, metallurgy, by-product-coking and power industries' processing lines.
United Productions manufactures globe valves serially in accordance with the TU U 29.1-35907383-001:2008 that meet all modern requirements for this type of equipment.
Product overview
| | | | |
| --- | --- | --- | --- |
| Embodiment | Nominal pipe sizes (DN) | Nominal pressure (PN) | Application |
| D | 10-300 | 6.3-16.0 | For high-pressure environment |
| D | 10-50 | 16.0-40.0 | Globe-nippleand lens joint for increased pressure environment |
| T | 15-200 | 0.6-4.0 | For high-temperature environment (up to 450°C) |
| M | 15-200 | 0.6-4.0 | For hostile environments, environments containing abrasive |
| S | 15-600 | 0.6-4.0 | Standard version for liquid and fluid |
| H | 50-200 | 0.6-4.0 | For solidifying environment with steam heating jacket |
| THR | 15-200 | 0.6-6.3 | Three-way globe valves are used as shut-off switching devices |